Create a Cozy Rustic Retreat
Not everyone is fortunate enough to own a secondary home where you can escape for solace and breathe in the lush mountainous air and scenery of the great Black Hills. But you don't have to have a cabin in the woods to have a tranquil, relaxing space. You can create a cozy rustic getaway right in your own home with the help of the right furniture, colors, and window treatments. Our team at The Blind Guy wants to share some inspiration to use rustic design to transform a room into a plush escape for needed respite during the holidays.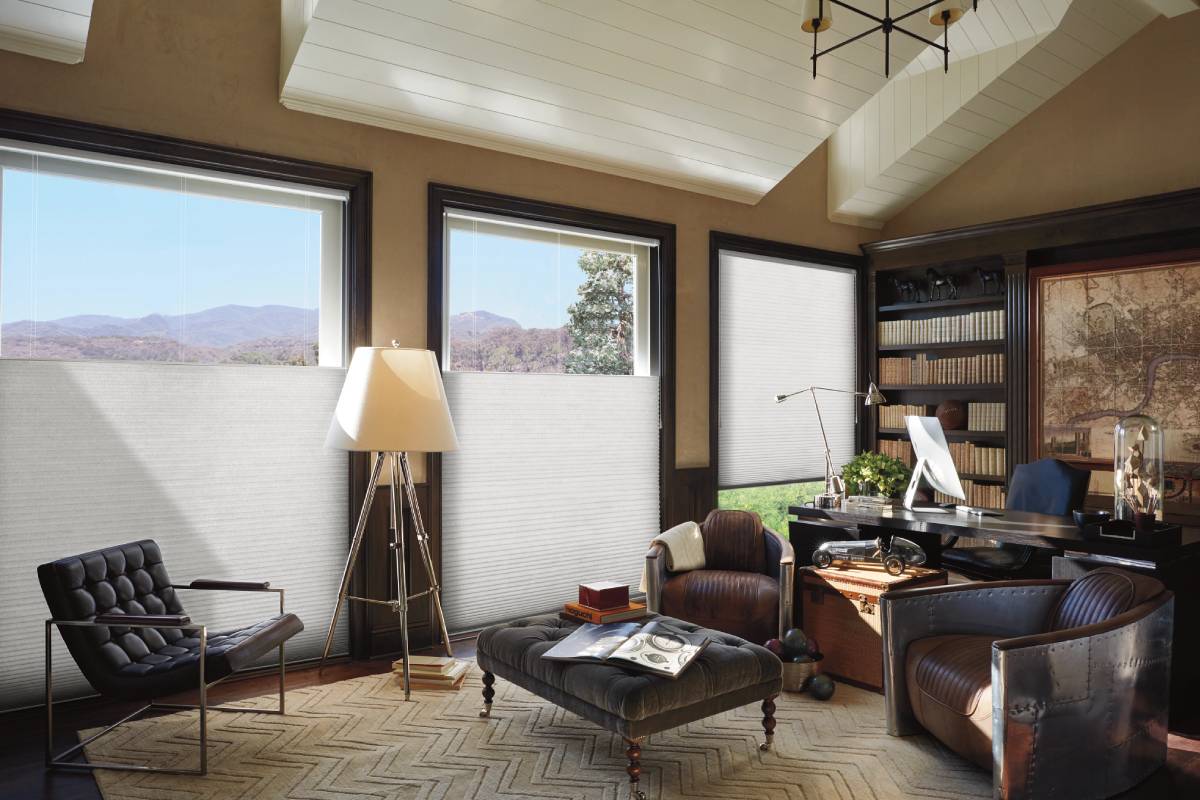 The rustic design emphasizes all things natural: wood, stone, burlap, jute, canvas, plants, logs, animal hides, and more. The more nature you bring in, the more rustic the design. The color palette, as you would guess, is neutrals. Use greens, greys, and browns for an overall earthbound aesthetic. You can bring in bold hues only with accessories, but bright walls are rare in rustic design.
Rustic furniture is typically handmade and oversized to establish a mood of overstated comfort. Fabrics used in rustic design are textured and dense with some imperfection. Things like driftwood, antlers, wagon wheels, animal skins, and vintage pastoral or waterfowl art can be used to further the rustic mood.
Woven Wood Window Treatments for Rustic Appeal
A space is complete with appropriate window treatments. You won't find aluminum mini-blinds or lace curtains in rustic design. The more natural the window treatments, the more textured the feel. Here at The Blind Guy, we are proud to carry four types of Woven Wood Window Treatments that will combine your rustic retreat with style and functionality.
Made from light-filtering grasses, reeds, papyrus, and bamboo, Alta® woven wood shades are true works of art as each is hand-fed on a loom. They are created by artisans who use generational techniques, making each shade a masterpiece. The select weaves offer all nature's imperfect beauty for a stunning window covering.
Graber® Tradewinds® Natural Shades
Graber® shades feature jute, bamboo, and grasses and are then handwoven into richly textured fabrics, making the result rich in depth and aesthetic. These shades are perfect for warm climates as they include all-natural materials. You can select from 88 color choices with optional accents.
Graber® Tradewinds® Natural Drapes
If your rustic retreat has expansive windows, Tradewinds® Natural Drapes are perfect for adding warmth and texture. The luxurious soft folds will add a natural sophistication and are made from sustainable materials that perfectly complement a rustic living room, dining room, or den.
Hunter Douglas Provenance® Woven Wood Shades
These shades have ribbed slats of bamboo, reeds, wood, and grasses. If you want to make your retreat darker, pair your shade with a room-darkening liner. These shades resist stretching, bowing, and breaking and can provide long-lasting beauty for years.
Woven Wood Window Treatments Near Spearfish, SD
The Blind Guy is home to various quality window treatments from some of the most trusted names on the market. We pride ourselves in ultimate customer service and superior products. If you are game to create a rustic retreat, contact us today.
We proudly serve Spearfish, Rapid City, Belle Fourche, Hotsprings, Custer, Keystone, Buffalo, SD, and the northern and southern Black Hills.