At The Blind Guy, we understand that the right window treatment can add tremendous value to your home, and plantation shutters are a great way to do that. A beautiful set of shutters are a statement window treatment you can see from the street. They can increase the curb appeal and value of your home. We are proud to offer vinyl shutters, wood shutters, and faux wood shutters from three of the top brands in the industry. Each shutter is built from durable materials and elevated finishes that make every window in your home look elegant and refined. The impenetrable louvers are easy to clean and can be cut to fit any window. This means that even arches, circles, ovals, octagons, and hexagons can have beautiful window shutters.
The traditional elegance of 100% hardwood shutters is hard to match. With dozens of paint and stain options, you are sure to find the perfect shutter for your sense of style. These plantation shutters can bring warmth into every room in your home. The wood used in our shutter collection is sustainably sourced from rapidly replanted and renewed forests. Hunter Douglas also donates to the Arbor Day Foundation for every hardwood shutter purchased.
Hunter Douglas Heritance® Hardwood Shutters
These gorgeous shutters are made from either basswood or poplar, and you can choose from 35 pre-made finishes or even customize your color. The patented Integra™ Finish adds a high luster that increases the longevity of the louvers and makes them easier to maintain. Hunter Douglas Heritance® Hardwood Shutters also feature Truemill® Dovetail construction. This method uses precision-cut interlocking pieces instead of glue and adhesives to hold the shutter together. This intricate craftsmanship ensures you will enjoy these shutters for years.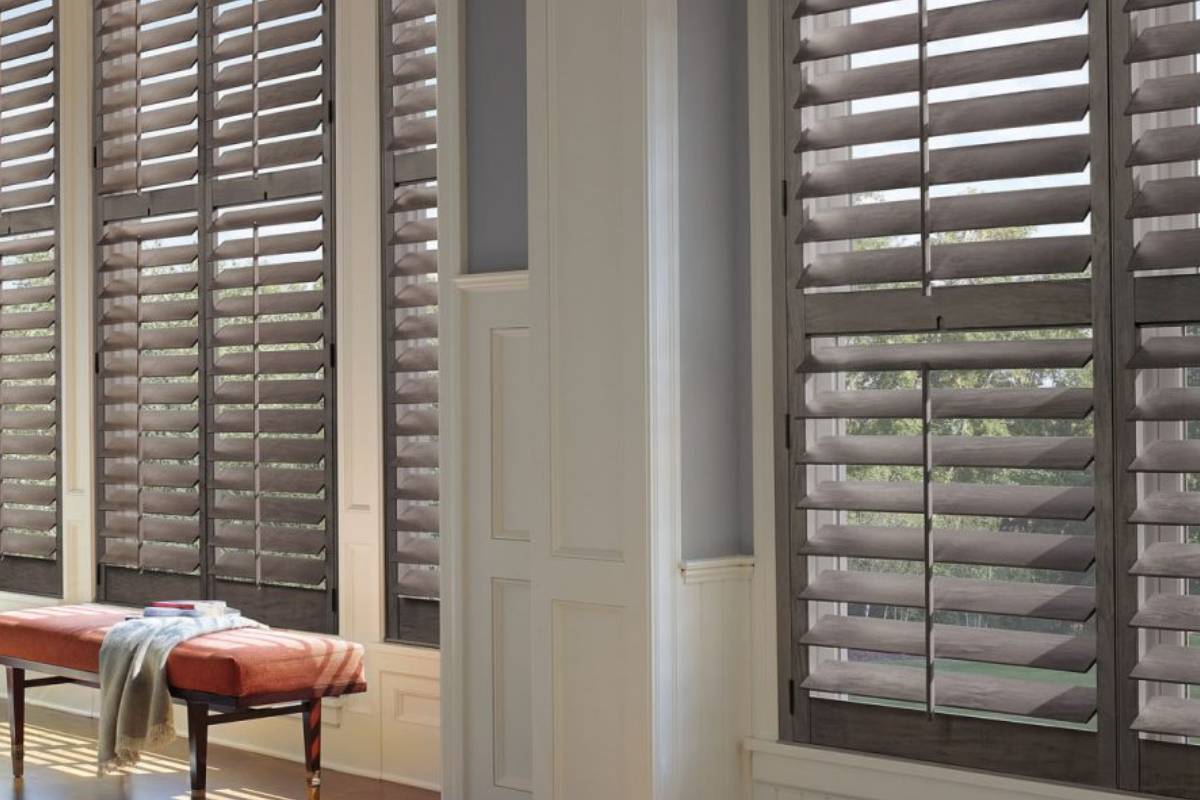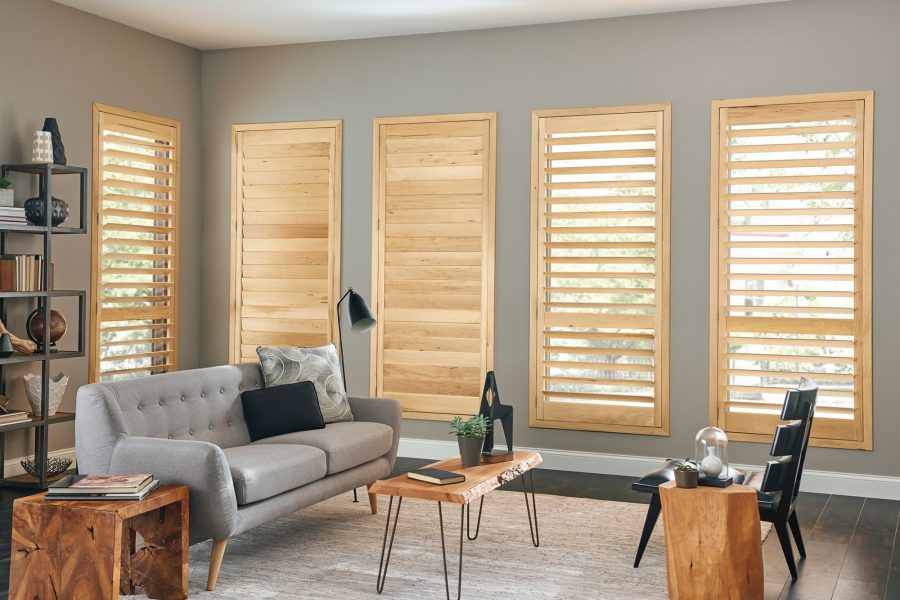 Graber Traditions® Interior Hardwood Shutters
Graber makes their shutters from 100% basswood harvested and processed in North America. Each piece of wood used goes through a three-step drying process to guarantee the straightest possible wood components. Each component is then hand-crafted by Graber craftsmen and stress-tested to provide the highest-quality product possible.
If you are looking for the beauty of hardwood with some added resistance to moisture, a faux wood shutter is a great choice. These shutters feature wood-grain mimicking finishes that give the warmth of hardwood shutters. Composite shutters are an excellent choice for bathrooms and kitchens.
Hunter Douglas NewStyle® Hybrid Shutters
These stunning shutters are coated with polypropylene and finished with UltraGrain™ to create the perfect wood texture and weather resistance mix. NewStyle® Hybrid Shutters can also be equipped with SoftClose™ Louvers to make sure they never slam shut on little fingers or paws. For those who want easy light control, the Quick Align™ feature allows you to create preset positions that give the perfect angle of light every time.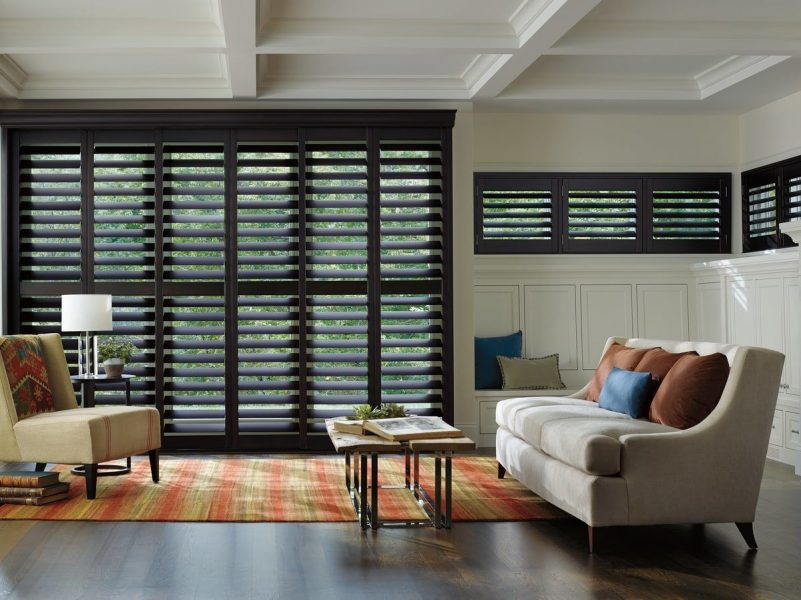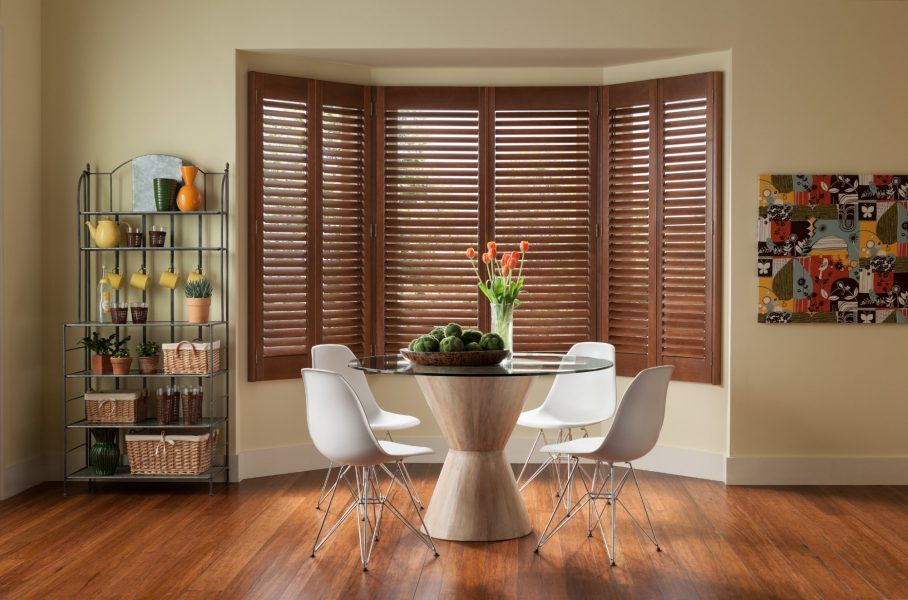 Graber Traditions® Interior Composite Shutters
These faux wood shutters are ideal for kitchens, laundry rooms, and bathrooms. They are rigorously tested to withstand even the most high-traffic environments. The shutters are available in several styles, including double-hung and cafe. Graber offers one of the widest louvers on the market at 36", providing great visibility and ideal for larger windows.
Guaranteed to never chip, discolor, warp, peel, or crack, vinyl shutters are the top choice when it comes to durability and ease of care. Like other plantation shutters, the lack of any cords or chains for their operation makes them perfect for homes with small children and pets. 
Hunter Douglas Palm Beach™ Polysatin™ Shutters
These elegant window shutters are available in several shades of white and bring an open modern feel to any room in your home. The louvers contain interior aluminum bracing and resin blocks that ensure they remain entirely straight even in the most extreme climates. Their DuraLux™ Finish provides a protective coating that you can easily clean with soap and water. These shutters are also the only ones that can be equipped with PowerView® Automation. This allows you to operate the vinyl shutters manually or with the PowerView® App.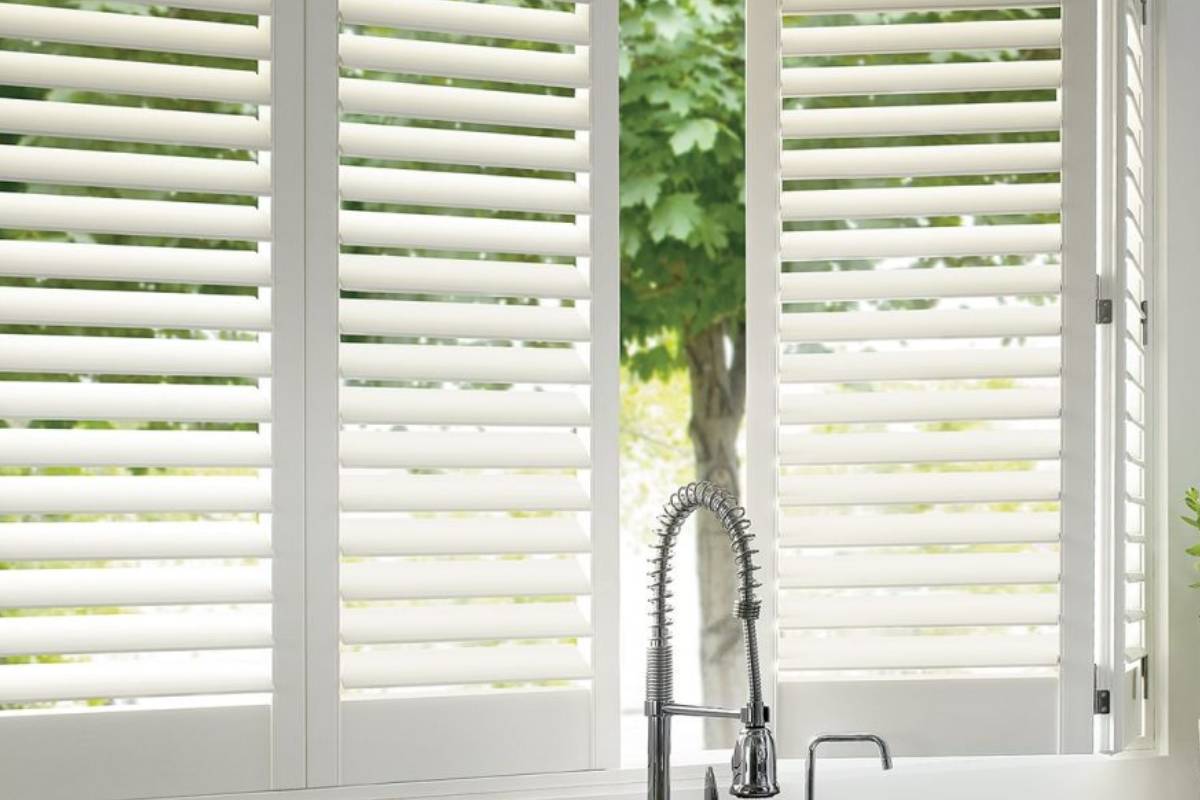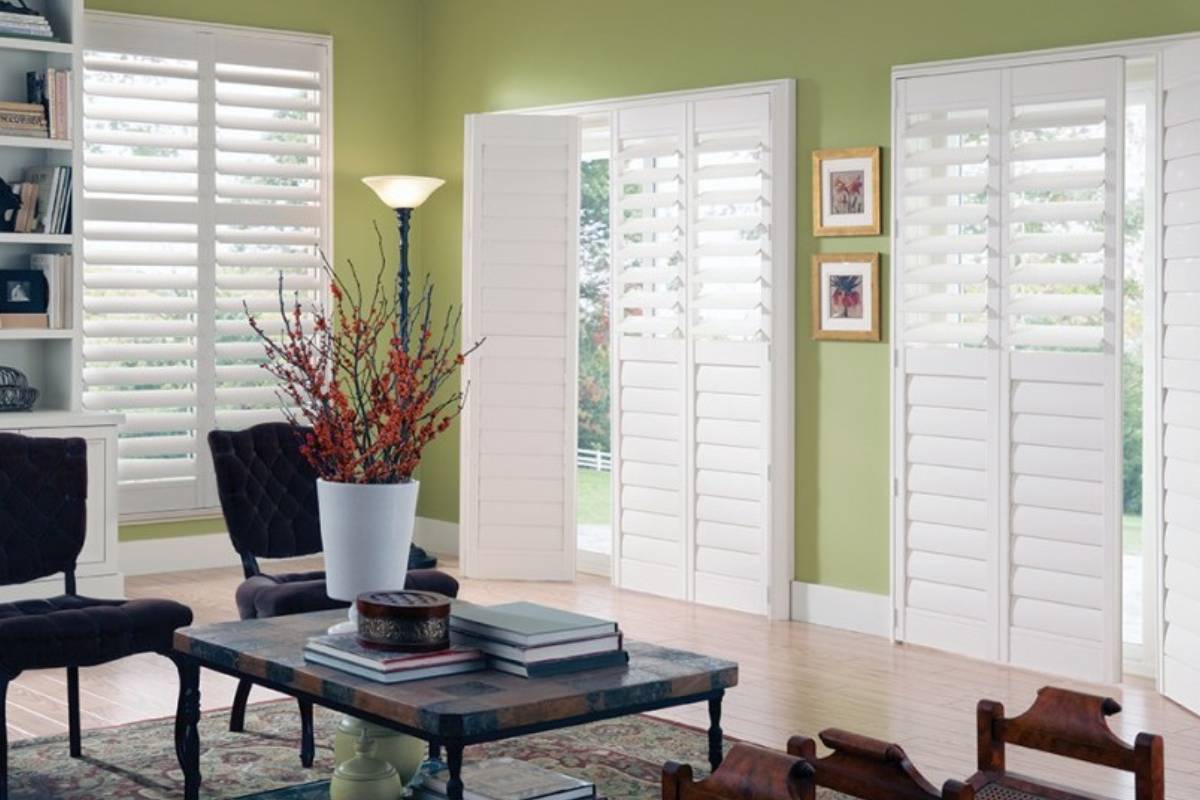 ALTA Eclipse Polyresin Shutters
Alta Window Fashions always has its eye on aesthetic beauty, and their Eclipse Polyresin Shutters live up to the standard of excellence you have come to expect. These shutters are also Greenguard certified, so you can breathe easy knowing they aren't releasing any harmful airborne chemicals. With louvers that naturally repel dirt and resist stands cleaning these shutters is a simple as running a feather duster or blowing on them with a blow dryer set to cool.
The Blind Guy is the leader in custom window coverings, and we would love to show you why. We offer a shop-at-home model, which means we will happily bring our showroom to you. This allows you to see each of our window treatments where you want to see them, in your home. Elevate the style and price of your home with plantation shutters by contacting us to schedule a consultation and get a free estimate. The Blind Guy is locally owned and serves the Black Hills area of South Dakota from Hot Springs up to Buffalo, including Spearfish, Hot Springs, Belle Fourche, Rapid City, Custer, and Keystone.
For more options, contact The Blind Guy of the Black Hills.
You might also be interested in…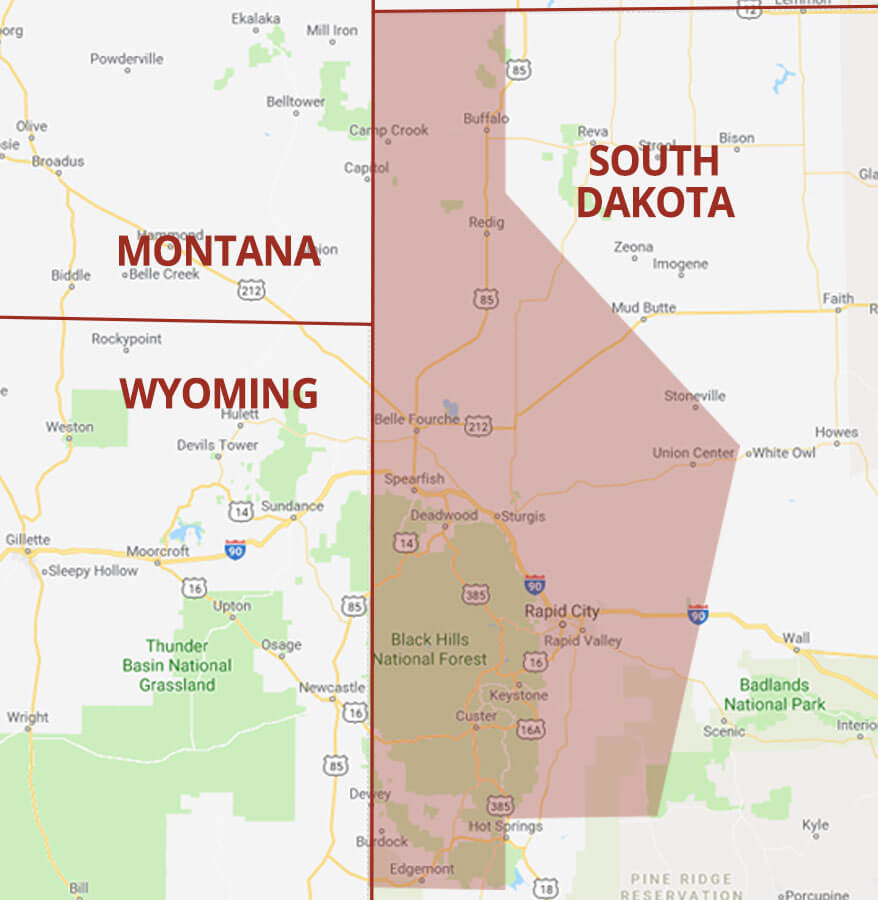 Blind Guy of the Black Hills
Call for your free in-home consultation.
Showroom open by appointment only.
We proudly serve South Dakota from Hot Springs up to Buffalo, including Rapid City, Custer, Keystone, and the northern and southern Black Hills.