Insolroll® Exterior Shades
At The Blind Guy in the Black Hills, we believe in providing top-quality window treatments, including interior blinds, shutters, shades, drapes, and exterior window treatments. We have proudly partnered with Insolroll® to carry their entire line of interior and exterior solar and roller shades. Whether you are looking for a sunscreen solution for your porch, sunroom, patio, balcony, deck, or pergola, or you want to add a stylish flair to the interior of your home or office, our selection has exactly what you need.
When Insolroll® started in 1980, its focus was on creating high-performance shading systems, and they still deliver on that goal today. All their interior sunshades, exterior roller shades, and sunscreens are manufactured in a state-of-the-art facility by staff with decades of industry experience. Every roller and solar shade is extensively checked and tested to ensure that only the best quality products are sent to customers.
There are several categories of Insolroll® products, each with its own uses and benefits. Read on to learn about each of the categories and how they can be beneficial to your home.
Exterior Roller & Solar Shades
These innovative shades are perfect for the exterior of windows or for covering decks, porches, pergolas, and other outdoor structures. Insolroll® makes an entire line of exterior roller shades under the Oasis® brand name. All the sunscreens are designed to control heat and glare while allowing you to enjoy the outdoor views. These solar shades reduce glare and heat and offer protection from the elements. Exterior roller shades are also custom fit and can span spaces up to 19 feet wide.
This specialty Insolroll® exterior roller shade is explicitly designed to keep out insets. The shade features an exclusive zipper track system that seals all four edges of the sunscreen. This ShyZIP system also helps your exterior roller shades withstand windy conditions. The available fabrics can block our flies, mosquitos, gnats, and even tiny biting midges like "No See Ums." Despite their insect-stopping power, these screens still have around 45% openness so that you can enjoy the outside views.
These roller shades are offered for your home's interior and exterior. Using opaque fabrics to block out light, these window shades can turn a space from day to night. They are perfect for computer rooms, offices, entertainment, and outdoor locations with televisions or other screens. You can even opt to add sidetrack systems that lock the roller shades in place and block as much light as possible.
If you want to limit the late inside your home while still enjoying the view outside of your windows, Insolroll® interior sunshades are the perfect solution. They are constructed from precision engineered solar fabrics that provide the ideal amount of view-thru and UV ray protection. These interior sunshades also allow daytime privacy similar to sheer drapes but are much more energy-efficient. Insolroll® also offers interior sun shades for skylights and irregularly shaped windows.
Interior Decorative Roller Shades
The Insolroll® Elements® Collection features 41 fabric patterns in over 100 colors. Each fabric is available in five different opacity levels ranging from light diffusing sheer to blackout privacy. This variety of designs and opacity can bring several different lighting and design elements into your home. You can fully customize your roller shades to make your room feel like a different place. These roller shades offer more privacy than sunshades if you choose the more opaque fabric options.
The final roller shades offered by Insolroll® are the custom-printed solar and blackout shades. These shades feature digital printing that can be easily viewed from the exterior of the building. They are a perfect way for commercial buildings to advertise their business. In residential spaces, these custom-printed patterns allow a homeowner to uniquely personalize their space. The roller shades can feature photographs, artworks, murals, and one-of-a-kind patterns. The possibilities are endless.
The Blind Guy Black Hills is the leader in custom window coverings, and we would love to show you why. We offer a shop-at-home model, which means we will happily bring our showroom to you. This allows you to see each of our window treatments where you want to see them, in your home. Take advantage of our selection of Insolroll®, Hunter Douglas, Graber®, and products by contacting us to schedule a consultation and get a free estimate. The Blind Guy is locally owned and serves the Black Hills area of South Dakota from Hot Springs up to Buffalo, including Spearfish, Hot Springs, Belle Fourche, Rapid City, Custer, and Keystone.
For more options, contact The Blind Guy of the Black Hills.
You might also be interested in…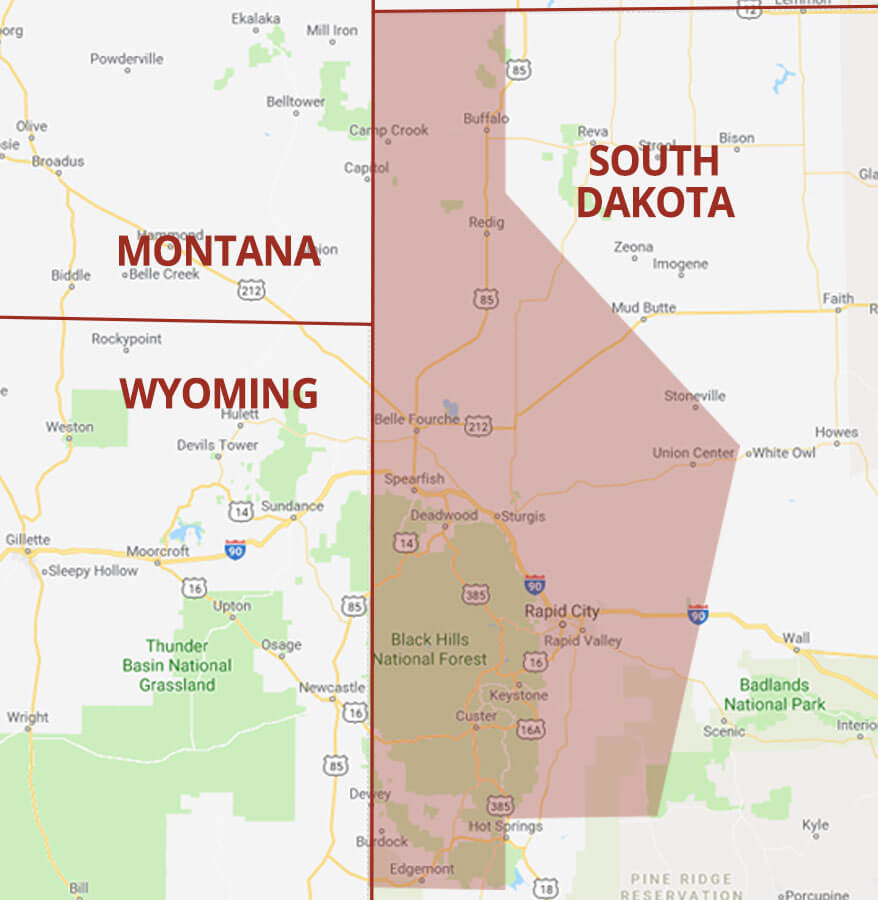 Blind Guy of the Black Hills
Call for your free in-home consultation.
Showroom open by appointment only.
We proudly serve South Dakota from Hot Springs up to Buffalo, including Rapid City, Custer, Keystone, and the northern and southern Black Hills.