Graber® Window Treatments
Your windows deserve high-caliber window coverings. Window treatments are vital in controlling the light in your home, providing a room with privacy, and contributing to a room's design. Cheap big box blinds won't rise to the occasion: the slats crack and warp, and the cords snap and tangle easily. Graber® window treatments are different: they are developed by industry experts with the latest innovation and design to be fashionable, functional additions to your windows. Graber® has been providing homeowners with exceptional window treatments since 1939, and their 80+ years of experience are showcased in the superior craftsmanship of their custom blinds, shades, and shutters.
Want to speed up the process? Fill out a form or call/text us today to start your window treatment journey
Enjoy unimpeded visibility and privacy at your command with the straight, clean lines of Graber® blinds. Graber® offers blinds for homeowners with a diversity of different priorities.
Graber® Wood Blinds are authentic hardwood blinds emphasizing wood's natural silhouette and character. They boast the beauty of Great Lakes basswood and are stained, painted, and finished to preserve and showcase its distinct wood grain.
Graber® Composite and Faux Wood Blinds make great alternatives to authentic hardwood in high traffic and moisture-prone areas. Graber® Faux Wood Blinds are designed with the elegance of wood and the durability of manufactured materials; their PVC construction makes them fire and moisture-resistant. Graber® Composite Blinds are more lightweight with wider space between slats than Graber® Faux Wood Blinds. They can withstand high humidity and are designed to match with Graber® Composite Shutters for whole-house cohesiveness.
Graber® Aluminum Blinds are economical window treatments that resist the wear and tear of use. They are available in a wide selection of colors and are customizable with inverted slats and complementing headrails for a sleek look and maximum light control.
Graber® Vertical Blinds are available in three styles: vertical fabric blinds, with fabrics ranging from sheer to room darkening; sheer vertical blinds, which combine the luscious drapery silhouette with dreamy light control; and vinyl vertical blinds, which are lightweight, easy to clean, and easily customizable with alluring colors and patterns. All Graber® vertical blinds are ideal for wide expanses of glass or sliding glass doors.
Graber® Vinyl blinds are durable blinds options in different colors, textures, and patterns to suit even the most individual of tastes. The NoHoles™ option decreases light leakage by eliminating cord holes, and multiple blinds may be hung on the same headrail for wide glass or patio doors.
Graber® Soft Blinds combine the function of blinds with the softness of shades. Technically "sheer shades," Graber® Soft Blinds roll perfectly into a cassette but preserve blinds' consistent light control and privacy.
Graber® Shades
No one else has such a unique and varied assortment of shades as Graber® does. Graber® offers no less than ten distinct window shades, including classic Roman shades, modern sheer shades, and economical roller shades.
Graber® Cellular Shades do it all. They successfully diffuse light, provide privacy, insulate your rooms, and ward off unwanted bacteria and mold.
Graber® Mezzanine Layered Shades feature modern design with alternating sheer and opaque fabric bands for versatile light diffusion and room-darkening ability. They can be raised entirely for an unobstructed view.
Graber® Natural Shades bring organic style to any room. Use them in coastal-themed rooms or to make living and dining rooms more casual. Their handwoven fabrics are made of natural grasses like bamboo and jute and are tested to withstand damage from humidity and heat.
Graber® Pleated Shades feature crisp folds with fashion-forward design. Extra ladder support ensures the longevity of these shades, allowing them to emphasize the lines of your room without sagging over time.
Graber® Roller Shades improve the economical design and function of conventional roller shades. They come in countless combinations of fabric, color, pattern, opacity, and width for the most application throughout your home. The UltraLite Lift System allows your Graber® Roller Shades to operate smoother than ever.
Graber® Roman Shades are renowned in the design world for their versatility. Graber® Roman Shades offers Roman shades from two collections: Graber® Fresco Roman, which features classic neutral colors, and Graber® Artisan, a new designer collection handcrafted in the U.S.A.
Graber® Sheer Shades are distinct from other shades for their airy light diffusion. When privacy or a dimmer room is needed, Graber® Sheer Shades operate like blinds, closing your home off from the glare of the outside world.
Graber® Solar Shades provide UV protection to your interiors, shielding art, flooring, and furniture from damaging UV light. They can be expanded for wide windows and complemented by an easy-install flat valance for sleek, modern design.
Graber® Exterior Solar Shades are suitable for outdoor use, blocking out the sun's rays before they hit your windows for ultimate protection and shade. They are weather-resistant and crafted with a special bottom notch to not flap in the wind.
Graber® Sliding Panels allow homeowners to choose their favorite shades—Graber® Fresco Roman, Natural, Roller, or Solar Shades—and make them into sliding panels ideal for large windows and sliding glass doors. Their functional design allows them to be used as fashionable solutions to room dividers and closet doors.
Graber® Shutters
Graber® prides itself on the exceptional, expert craftmanship of its window treatments. Graber® Shutters showcase their dedication to traditional style and modern methods with wood and composite shutters.
Graber® Traditions® Wood Shutters are 100% North American Hardwood specially processed and tested for structure and straightness. Rich stains bring out the natural color and warmth of the wood for long-lasting sophistication.
Graber® Traditions® Interior Composite Shutters preserve the organic sophistication of wood while their composite materials let them be used in high humidity areas hardwood like kitchens, bathrooms, and laundry rooms. They resist warping from seasonal changes and are engineered for durability, and combined with their customizability; these shutters are resilient enough for any room in your home.
Graber® Custom Curtains and Drapery provide the finishing touch to your other Graber® treatments. Layer your window treatments with handcrafted drapery, curtains, and top treatments in unique fabrics and styles for extra depth and dimension to your room.
Graber Artisan® Designer Drapes awe even the most design-oriented of homeowners. Graber® Artisan Drapery is a high-end drapery option hand-tailored in the U.S.A. to ensure thoughtful craftsmanship and unsurpassed quality. Fabrics are designed to be coordinated with Graber® Artisan Roman Shades and Graber® Top Treatments, and Graber® Artisan Performance Drapery is engineered to create luxurious patios and outdoor spaces.
Graber® Tradewinds® Natural Drapes are made of renewable materials for eco-friendly solutions to large windows and patio doors. They bring the outdoors inside with their bamboo, reeds, grass, and jute material, and their texture gives your room a casual, relaxed character.
Graber® Valances and Cornices accompany your Graber® window treatments as a finishing touch. Top treatments give your room height and depth and shape your windows without changing their frame. Graber® makes custom valances, cornices, swags, and Palladian shelves to complement your window treatments or make them easier to mount.
Graber® Motorized Blinds and Shades
Graber® prides itself on innovation and design. The two come together like never before with their motorized blinds and shades. Schedule when your blinds and shades raise and lower; control them through a remote, an app, or even your voice. Never forget to open your blinds before work or worry about dangling cords. Graber® Motorized Blinds and Shades are specifically developed for homeowner convenience and include quiet operation, a rechargeable motor, and a rechargeable battery pack.
The Blind Guy has been your local resource for the latest window coverings and trends since 2003. We only carry trusted brands like Graber® to ensure homeowners get the best from their windows. Our experts are prepared to help homeowners choose between window treatments and will measure and install for a smooth window treatment buying process. Take advantage of our free in-home estimate and professional installation services to see how Graber® window treatments can transform and refresh your home. Call or contact us today to set a consultation date or make an appointment in our showroom. We proudly serve Spearfish, Rapid City, Belle Fourche, Hotsprings, Custer, Keystone, Buffalo, SD, and the northern and southern Black Hills.
For more options, contact The Blind Guy of the Black Hills.
You might also be interested in…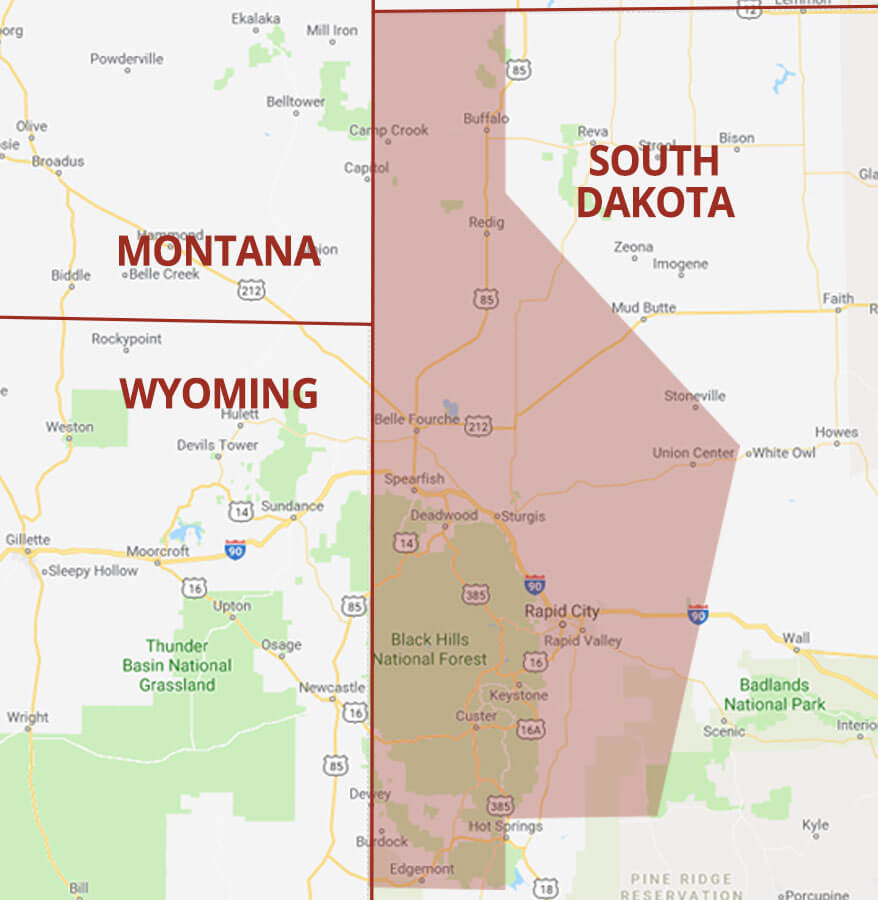 Blind Guy of the Black Hills
Call for your free in-home consultation.
Showroom open by appointment only.
We proudly serve South Dakota from Hot Springs up to Buffalo, including Rapid City, Custer, Keystone, and the northern and southern Black Hills.