The adjustable slats of blinds offer unmatched variable light and privacy control. Tilt the slats to enjoy an outstanding view of the outdoors without lifting the blinds. Custom blinds are available in a variety of materials to suit any design preference and need. The Blind Guy carries leading brands of blinds, including Hunter Douglas and Graber®, and we'll help you outfit your windows with style.
Wood Blinds
Wood blinds add warmth and character to your windows. Hardwood is easy to care for and is an excellent natural insulator. Skilled artisans craft wood blinds to ensure the best quality and appearance. Custom wood blinds are also an environmentally friendly choice because the manufacturing process uses fewer chemicals than synthetic materials, and you can recycle them after using them. Customize your blinds with a wide selection of paint and stain finishes, and add elegance with a top treatment, like a valance or cornice. The only potential drawback to wood blinds is their susceptibility to moisture damage. For this reason, you should choose blinds made from an alternative material for humid areas and avoid moist cleaning methods when caring for your blinds.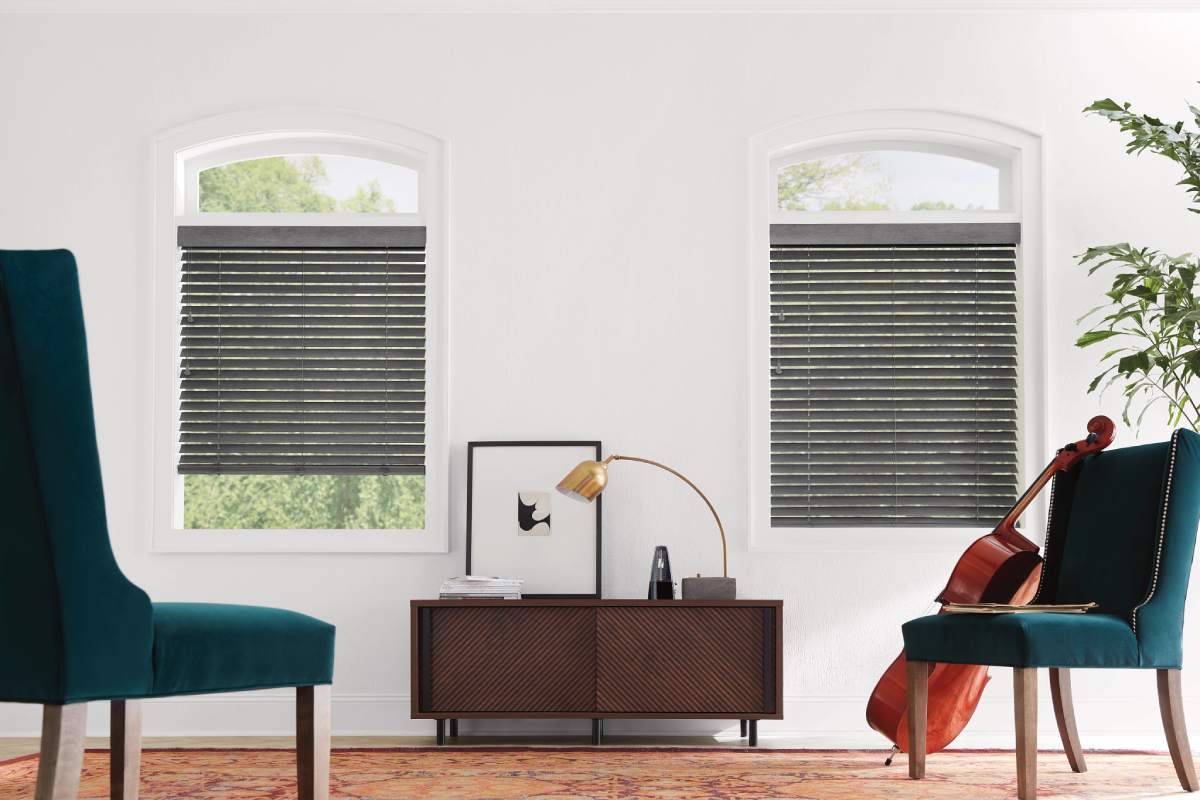 Faux Wood & Composite Blinds
Faux wood blinds offer the same sophisticated aesthetic as natural wood varieties but with increased UV and moisture damage resistance. Faux wood is also a more cost-effective custom blinds solution. The PVC slats are more flame-resistant than other materials and will not warp, chip, or turn yellow in humid areas of your home. Faux wood is an ideal solution for windows in laundry rooms, bathrooms, and kitchens. Choose from various solid colors or finishes that closely mimic the appearance of a stain.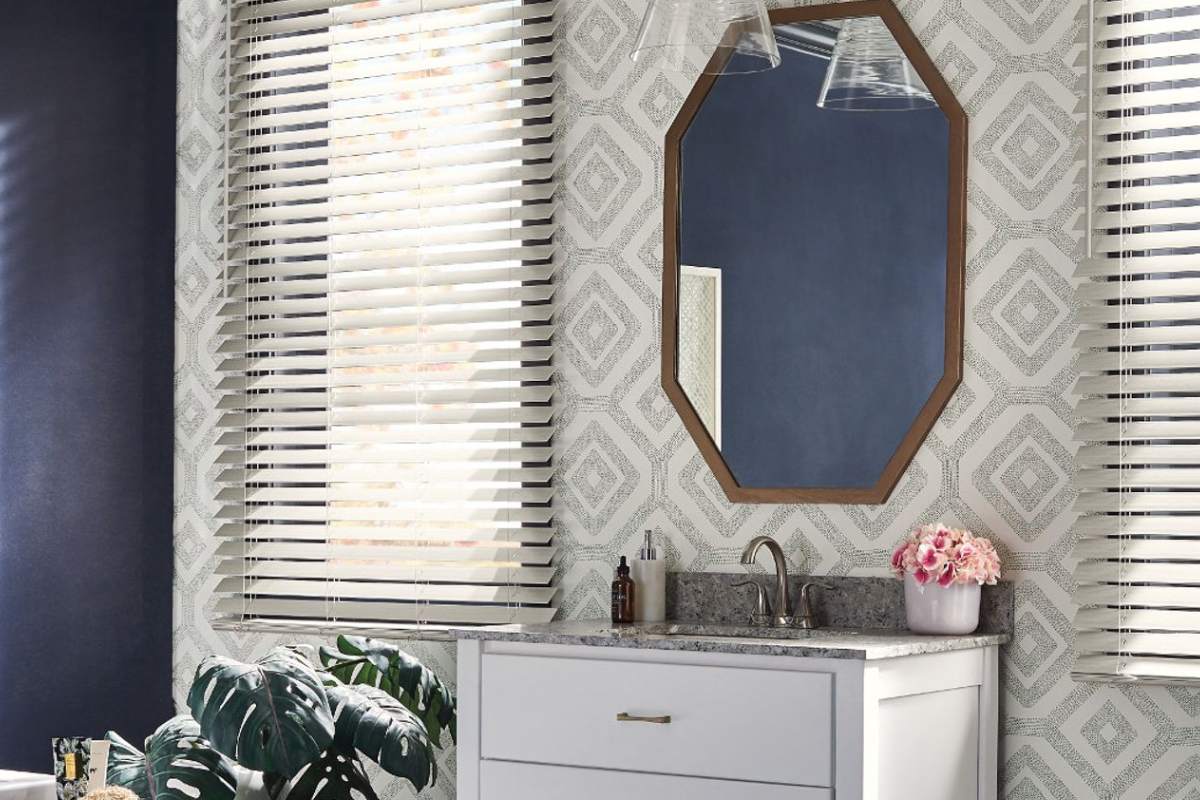 Vinyl Blinds
Vinyl is an incredibly durable, easy-to-clean material available at attractive prices. It's flexible and resists dents and creases from everyday wear and tear. An array of color, texture, and pattern options allow you to incorporate these custom blinds into any interior effortlessly. Optional cloth tapes add extra color and personality to vinyl blinds and increase light control by blocking the cord holes.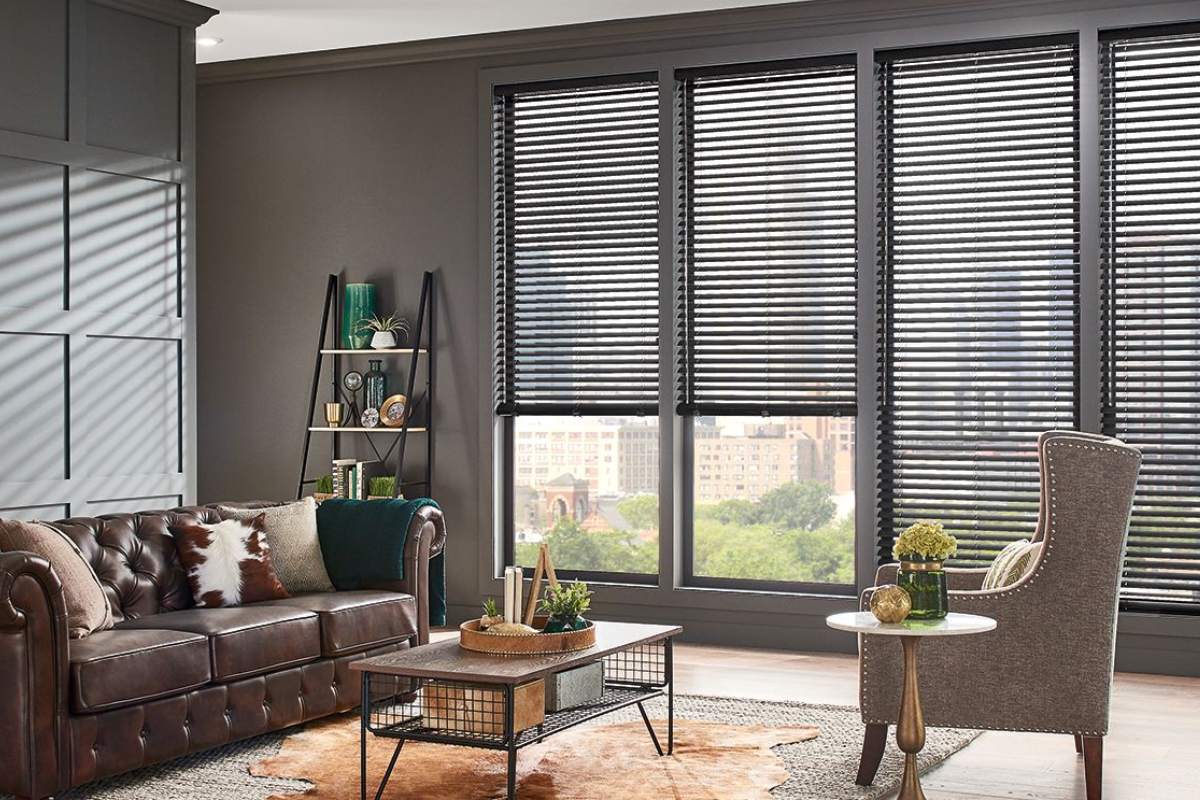 Aluminum Metal Blinds
Aluminum blinds are a contemporary take on a timeless classic. Their sleek appearance is perfect for modern decor and high-traffic homes. If you're looking for a low-maintenance window treatment, consider aluminum blinds; they are resistant to rust, dents, dust, and fingerprints. They're an excellent choice for man caves and teenagers' bedrooms. Metal blinds are available with ultra-slim ½" slats that are ideal for narrow windows and French doors.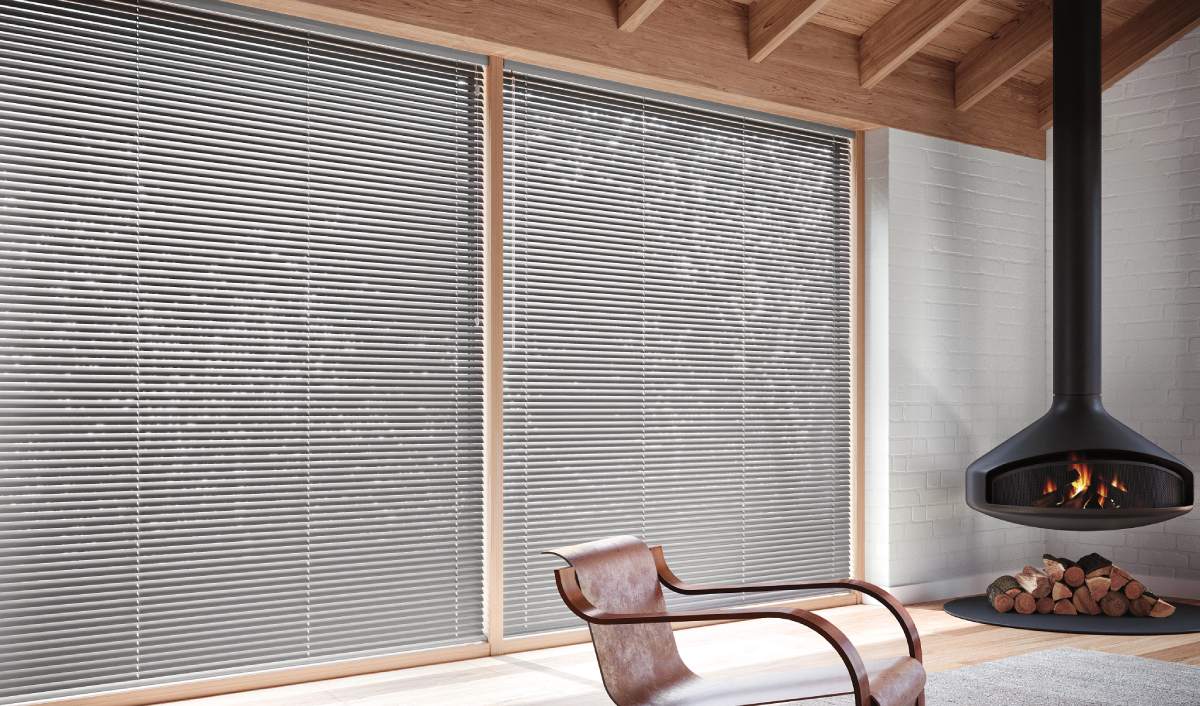 Vertical Blinds
Covering oversized windows and sliding glass doors can be challenging. Vertical blinds are a fantastic way to add light control and privacy to your home and are available with fabric, vinyl, and metal vanes. The vanes of vertical blinds adjust 180 degrees, giving you superior control over natural light and privacy. The gentle curves of S-shaped fabric vanes give the luxurious appearance of drapery with the outstanding functionality of custom window blinds, while vinyl and metal options offer attractive durability to suit every lifestyle. Vertical blinds are easy to care for, and most styles allow you to replace individual blinds instead of the whole set should damage occur. Elegant gliding panels are a stylish alternative to traditional vertical blinds and quickly elevate the aesthetic of your home.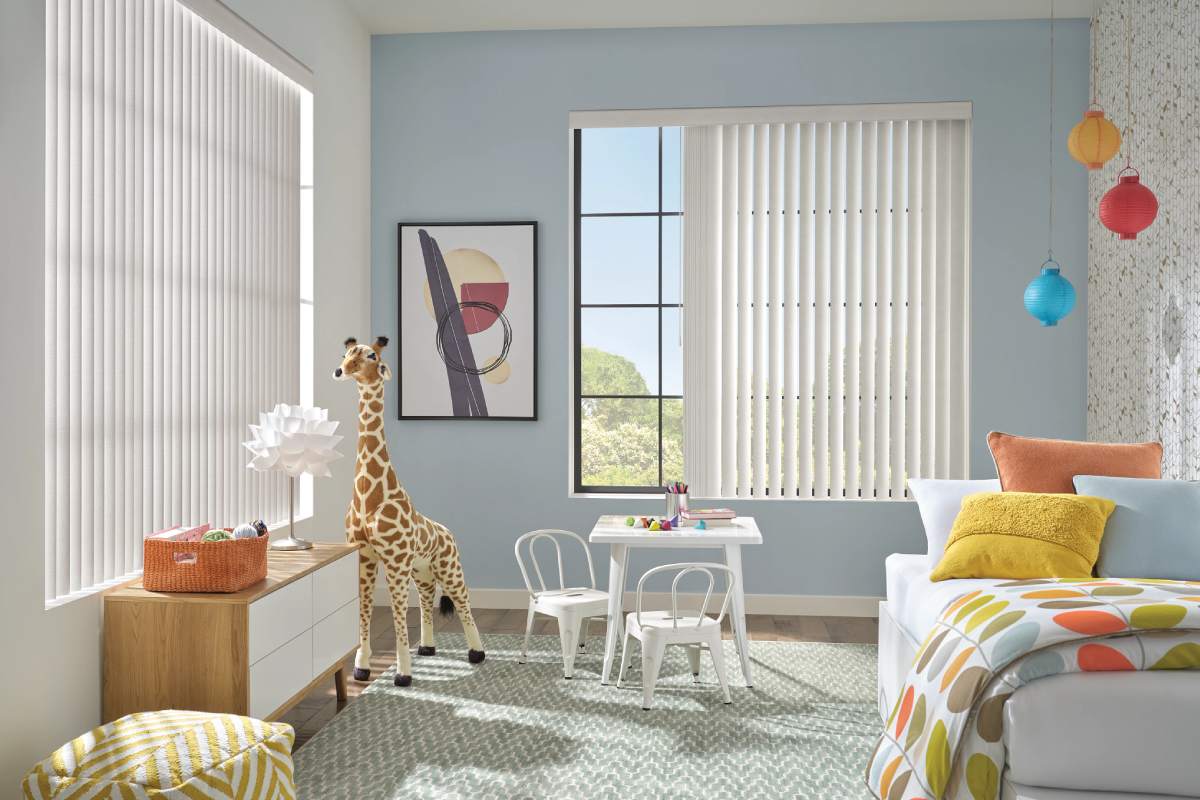 Custom Blinds Control Options
Today's custom blinds have cordless control options, and most are compatible with motorization to make your home safer and more convenient. Motorized blinds offer enhanced security and privacy and can make your home more energy efficient. You can integrate motorization with many popular smart home systems to operate your blinds using an app or voice commands.
Custom Blinds near Spearfish, SD
The Blind Guy is the area's premier resource for all your custom window treatment needs, including shades, blinds, shutters, and exterior shades and awnings. Call us at (605) 722-4489 or send us a message to schedule your complimentary in-home consultation.
We are happy to serve the northern and southern Black Hills including areas near Spearfish, Rapid City, Belle Fourche, Hotsprings, Custer, Keystone, and Buffalo, South Dakota.
For more options, contact The Blind Guy of the Black Hills.
You might also be interested in…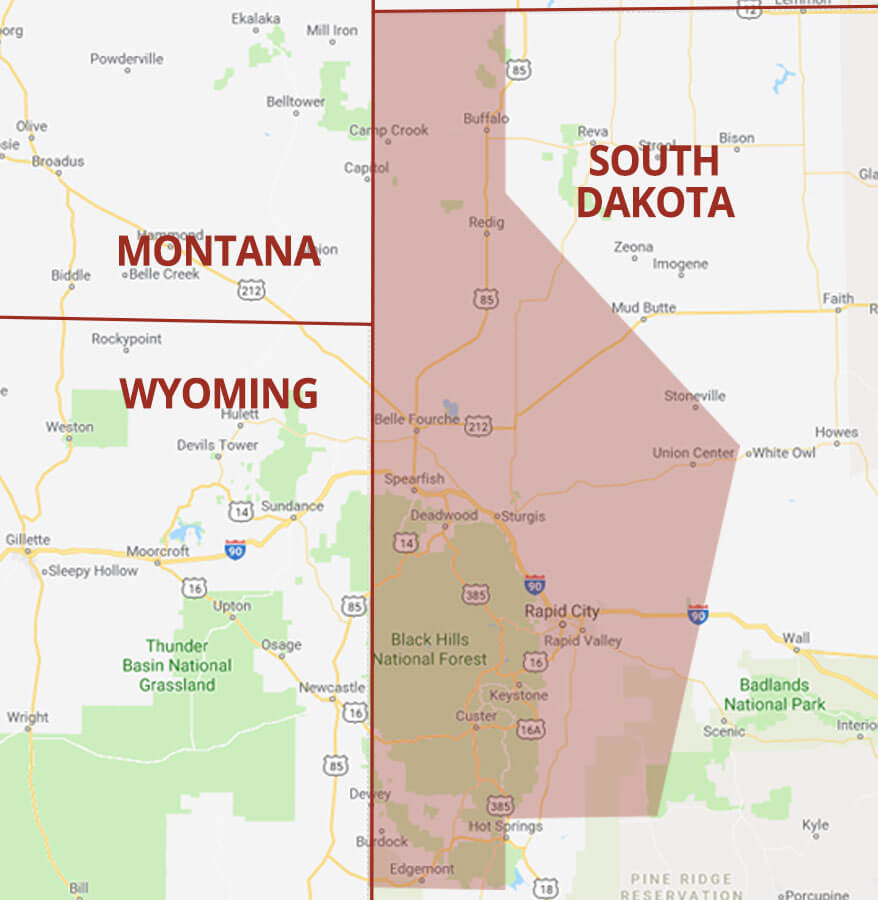 Blind Guy of the Black Hills
Call for your free in-home consultation.
Showroom open by appointment only.
We proudly serve South Dakota from Hot Springs up to Buffalo, including Rapid City, Custer, Keystone, and the northern and southern Black Hills.