The Blind Guy in Black Hills is known for providing top-quality window treatments for both the interior and exterior of your home. In addition to our exterior roller shades from Insolroll®, we proudly carry an entire selection of Sunesta® awnings. These stationary or retractable awnings are available for doors, windows, patios, and decks. Retractable patio awnings can transform your outdoor spaces into a wonderful place to spend the late afternoon. There are many benefits to awnings, and The Blind Guy Black Hills offers the best awnings in Spearfish.
When Sunesta® opened its doors in 1981, it was the first North American manufacturing company to offer ready-to-install retractable awnings. Since then, Sunesta® has been pioneering technological advances in the awning industry. Sunesta® now provides the widest variety of features and options in the patio, door, and window awning industry. The innovations pioneered by Sunesta® include attached gutters, wind, rain, and sun sensors. Each door and window awning has been thoroughly tested by TUV, an independent organization that tests the Sunesta® Awnings for safety and reliability.
Sunesta® also offers some of the largest ready-to-install awnings. These retractable awnings are available in widths of up to forty feet and can project outwards up to 14 feet 8 inches. This provides more protection and shade than other leading brands. Sunesta® is so confident about the quality of its products that every Sunesta® awning is backed by a ten-year warranty.
Sunesta® Awnings might be ready-to-install, but that doesn't mean you can't fully customize them. Each of the retractable awnings is custom cut and constructed for your home. First, you need to choose your Sunesta® awning style, retractable awnings, window awnings, door awnings, or patio canopies. Once your style is selected, a professional team will measure your space to ensure you get an awning of the correct size. From there, you get to customize the look of your Sunesta® Awning. We offer over 130 different fabric patterns, including both solids and stripes of almost every color imaginable. Sunesta® also carries 22 different binding options and ten choices for their SmartDrop valance fabrics. You also have several frame color options so you can match the exterior of your home.
In addition to customizing the aesthetic look of your Sunesta® Awnings, you can also fully customize the operation. Our door awnings and window awnings are often stationary, but for the retractable awnings, you can choose between manual and motorized operation. Manual operation is less costly, but it doesn't offer the flexibility of automatic retractable awnings. If you decide on the motorized operation, you can operate your awning via a remote or wall-mounted unit. Motorized awnings can also be automatically opened and closed based on the feedback of sensors if you choose to install them. Sunesta® Awnings can also be mounted to the wall, ceiling, or roof.
Sunesta® Awnings Special Features
In addition to the already mentioned customization options, there are also several features that you can choose to add to your Sunesta® Awnings. These include:
Smart Lights: These dimmable LEDs are integrated directly into the retractable awning to create the perfect mood.
Hoods & Cases: These cassettes store your awning when retracted and provide weather-sealed protection for the awning fabric.
Smart Drop: This drop-down valance adds additional sun, wind, and rain protection to your existing awnings.
Smart Tilt: This optional feature is available with some awnings and allows you to control the tilt of your retractable awnings.
Sensors: Sunesta® offers sensors that can be combined with the motor to create fully automated retractable awnings. The available sensors include wind, rain, and sun.
Sunesta® Awnings Products
Retractable Awnings

The Sunesta Retractable Patio Awning
The Sunstyle Retractable Patio Awning
The Sunlight Retractable Patio Awning

Window & Door Awnings

The Sunbrero Window & Door Awning
The Sundrop Retractable Window Awning

Patio Canopies

The Sunplus Retractable Shelter with Rain Gutters
The Blind Guy Black Hills is the leader in custom window coverings, and we would love to show you why. We offer a shop-at-home model, which means we will happily bring our showroom to you. This allows you to see each of our blinds, shutters, and shades where you want to see them in your home. Take advantage of our selection of Insolroll®, Hunter Douglas, Graber®, and Sunesta® products by contacting us to schedule a consultation and get a free estimate. The Blind Guy is locally owned and serves the Black Hills area of South Dakota from Hot Springs up to Buffalo, including Spearfish, Hot Springs, Belle Fourche, Rapid City, Custer, and Keystone.
For more options, contact The Blind Guy of the Black Hills.
You might also be interested in…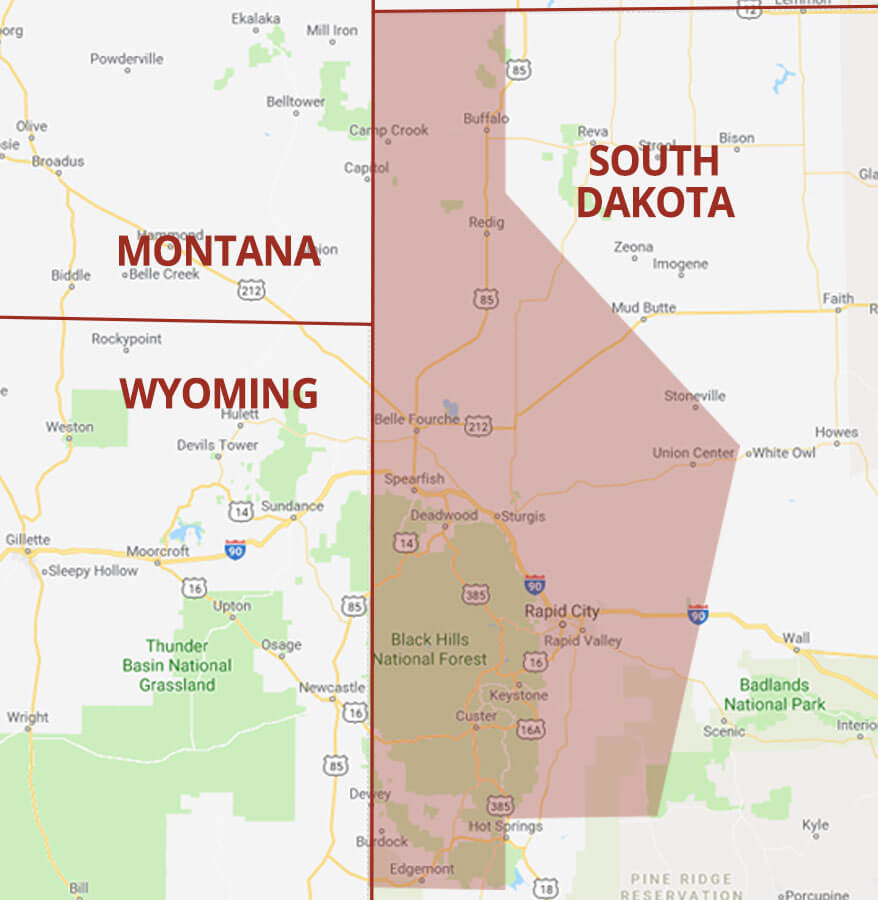 Blind Guy of the Black Hills
Call for your free in-home consultation.
Showroom open by appointment only.
We proudly serve South Dakota from Hot Springs up to Buffalo, including Rapid City, Custer, Keystone, and the northern and southern Black Hills.