Cellular honeycomb shades offer an unmatched package of features and benefits with soft, sophisticated style and money-saving energy efficiency. Their unique construction design is only enhanced by the latest operating systems helping create a lasting treatment that gives homeowners control over their home's light and interior environment. And while functionally optimal, cell shades are also stylish with modern fabrics, soft clean lines, and a chic modern aesthetic.
Cell Shades Construction & Operation
Honeycomb shades are unique in the world of window treatments because of their hollow design. From the front, the shade looks like a sculpted fabric treatment with horizontal fabric vanes; however, the fabric front conceals a sophisticated design with an interior cellular construction reminiscent of a honeycomb. Hollow cavities that run the length of the vanes trap air inside, creating an insulating layer over windows, which helps to make controlling interior environments easier. Styles for the cells in honeycomb shades vary from brand to brand and include single and double cell styles, cells of varying sizes, and unique techniques for intertwining multiple cells in a single construction.
Modern operating systems add to the enhanced performance of honeycomb blinds, specifically designed to make cell shades more reliable, intuitive to user needs, safer, more precise, and, of course, more convenient and easier to use. In addition to traditional manual systems that smoothly raise and lower cell shades, there are also cord-free systems that are child-safe and pet-friendly, as well as motorized systems with automatized operating capabilities.
Energy-Efficient Cellular Shades
A key aspect of energy efficiency in residential homes is controlling the energy transfer between the home's interior and the exterior world. Up to 30% of that transference can be through windows, so a complete energy efficiency plan for a home needs to include insulating window treatments. Cellular shades are one of the most energy-efficient window treatments thanks to the construction of their vanes which provide insulation. The insulation keeps heat inside during the winter while protecting against the cold. The insulation prevents the loss of cool air out windows while guarding against encroaching summer heat in the summers. Less energy transfer creates more consistently comfortable interiors with less need for artificial heating and cooling, a money-saving benefit. Combine the insulating benefits of cells shades with an automated operating system, and you are saving even more money and energy.
Honeycomb Blinds with Style
There are hundreds of fabrics to choose from for honeycomb blinds and shades with an equally diverse color palette. Fabric selection also includes pattern and print choices as well as options in opacity from translucent sheers and semi-sheer to semi-opaque, opaque, and room-darkening textiles. Complementary accessories, including headrails or valances, add another element of customization for cell shades.
Natural illumination and light control also play an important role in a room's design and feel. Cellular shades can create a spectrum of lighting effects available in fabrics in a wide range of opacities. From softly filtered light for a formal dining room to room-darkening treatments for the master suite, honeycomb shades can create tailored lighting effects to suit different rooms' unique needs and styles throughout the home.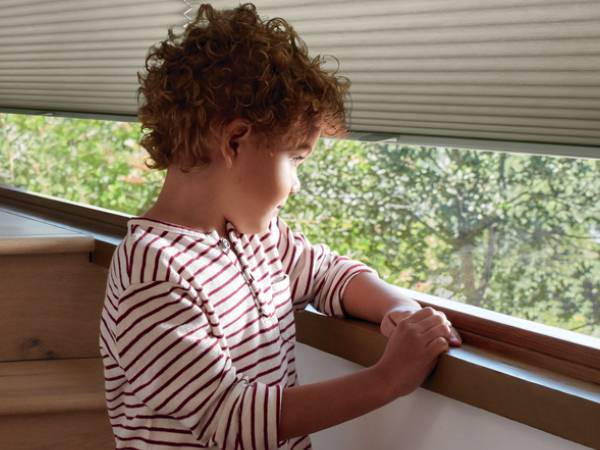 Furthermore, cellular honeycomb shades can fit almost any residential window shape or size. Their construction style makes them easily moldable to work in a wide variety of unique shapes or one-of-a-kind applications. Cell shades can be used on arches, angles, trapezoids, hexagons, octagons, circles, ovals, cut-outs, sidelights, skylights, and bay or corner windows. There are also vertical applications for cell shades useful for extra wide windows or patio doors and sliding glass doors. No matter what the shape or size of the window in your home, cellular shades can be styled to fit.
Cellular Blinds and Honeycomb Shades by Brand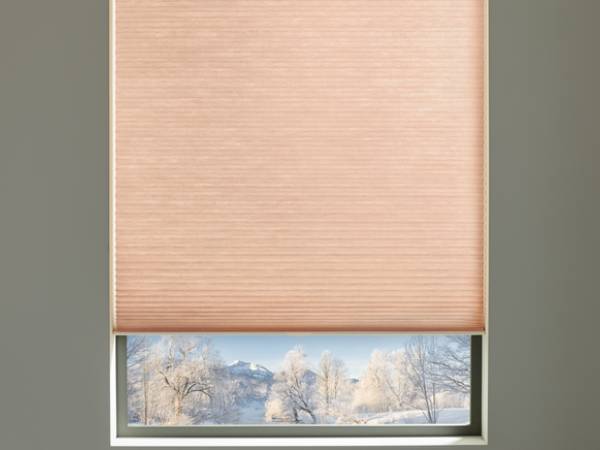 Hunter Douglas Honeycomb Shades
With single-cell and cell-within-a-cell construction styles, Hunter Douglas honeycomb shades are energy efficient with designer finishes that create sophisticated cellular shades optimal for use throughout the home. Hunter Douglas cell shades are available with cord-free, child-safe operating systems and the PowerView® Automation system with convenient, automated control.
Duette® Honeycomb Shades
Applause® Honeycomb Shades
Alta Honeycomb Shades
The one-of-a-kind smart D cell design in Alta Honeycomb Shades helps maintain the brand's signature crisp, full pleats. Alta honeycomb shades come in the latest high-end fabric, including enhanced materials with stain and wrinkle resistant properties that make these cell shades easy to clean and maintain. Alta has six cell styles in their collection of honeycomb shades that come in sheer, semi-opaque, and blackout opacities.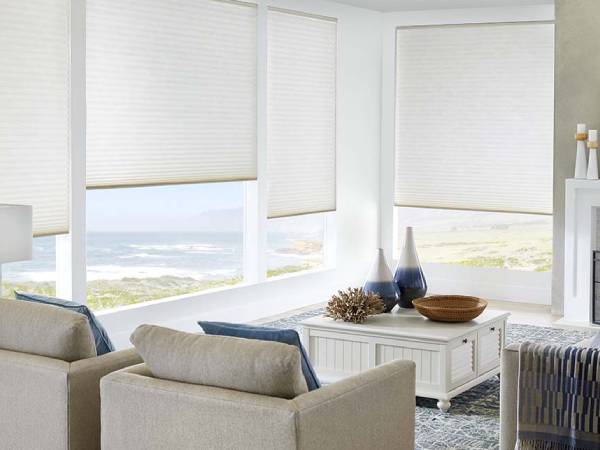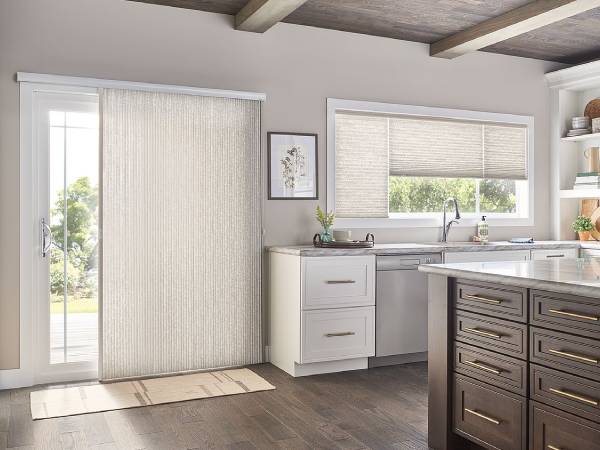 Graber® Cellular Shades
Engineered for durability and longevity, Graber® Cellular Shades have four unique cell designs (⅜" Single Cell, ¾" Single Cell, 1¼" Single Cell, ½" Double Cell) plus enhanced fabrics for optimal performance. Graber® cell shades come with a coordinated headrail for a sleek, modern look with horizontal, vertical, and specialty shape applications.
Graber® CrystalPleat Cellular Shades
Graber® Slide-Vue™ Vertical Cellular Shades & Room Dividers
Learn more about cellular shades by contacting The Blind Guy Black Hills. Their talented team of window treatment experts can answer your questions about cell shades and help you find the ideal style for your home from their wide selection of Hunter Douglas, Alta, and Graber cellular honeycomb shades. Request a consultation today or stop by the showroom location near Spearfish, South Dakota. The Blind Guy Black Hills serves residents in western South Dakota from Hot Springs to Buffalo, including Rapid City, Custer, Keystone, Belle Fourche, Hot Springs, Spearfish, and the northern and southern Black Hills.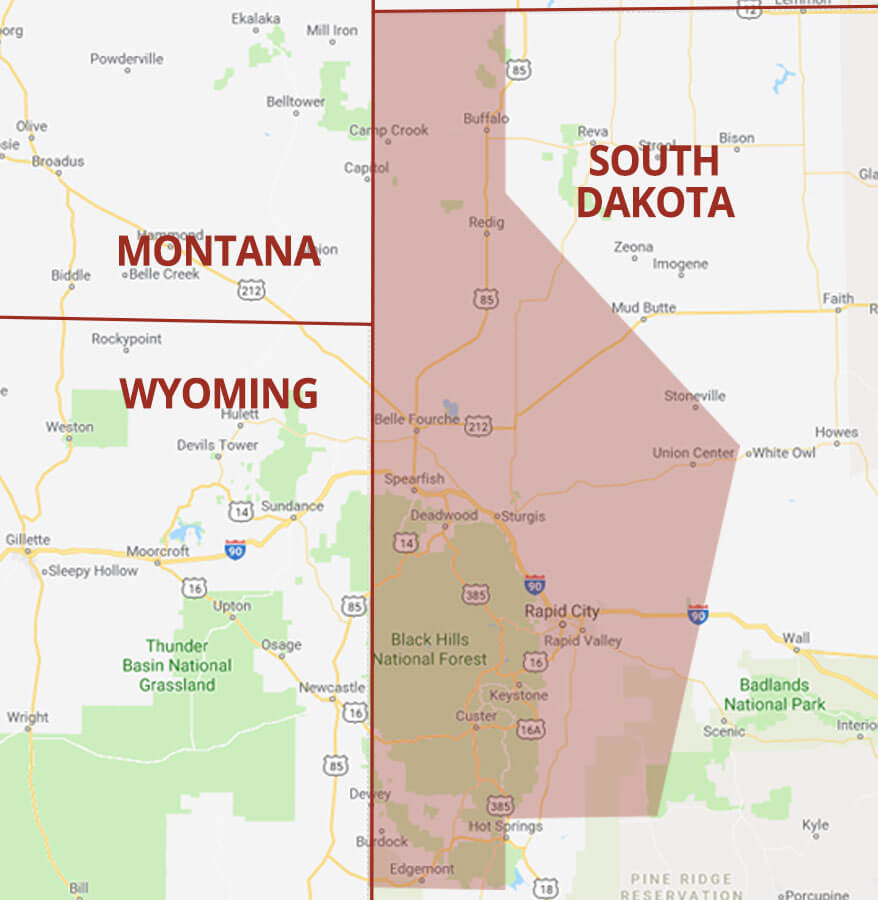 Blind Guy of the Black Hills
Call for your free in-home consultation.
Showroom open by appointment only.
We proudly serve South Dakota from Hot Springs up to Buffalo, including Rapid City, Custer, Keystone, and the northern and southern Black Hills.