Roller shades are one of the most versatile window treatments offering varying degrees of light-filtering and privacy. At The Blind Guy, we are ready to help you select the best roller shades for your home. We carry roller shades from the industry's top manufacturers including Hunter Douglas, Alta, Graber, and Insolroll.
Solar shades are perfect for allowing natural light to enter a room while also reducing the amount of heat and glare produced by sunlight. Light color roller shades are best suited to reduce heat while darker colors are preferred for glare reduction. High performance fabrics that deliver both qualities in any color are also available.
Fabric openness is an important consideration when choosing your roller shades. When choosing a level of openness, you should think about the location of the window and your desired amount of sunlight and privacy. Between 1% and 5% are the most common levels but you can choose the amount that is right for your room. A low openness percent will provide you with the most privacy and UV protection but will also obscure your view of the outdoors and provide little sunlight. A higher percent will afford you a reduction in glare and UV protection without significant room darkening.
Opacity Level
The opacity of your roller shades will impact the amount of sunlight and privacy a room has. You can choose from five different levels:
Sheer: A sheer fabric will gently diffuse light while maintaining a high level of view-through. You will be able to see objects and colors on the outside.
Semi-Sheer: Offers varying amounts of privacy and partial view-through. Objects outside will be visible but slightly obscured.
Solar Screen: Solar roller shades are made from technical, high-performance fabrics. They are designed to reduce glare and amounts of incoming UV rays. The visibility of the outdoors will vary depending on the color and openness of the screen shades.
Translucent: A translucent shade will filter light and offer no view-through. You may be able to see shadows of outside objects
Blackout: These fabrics are designed to eliminate incoming sunlight and are a good choice for home theaters and bedrooms. There is no view-through and you will not be able to view any outside objects.
Solar shades are made to very specific standards to meet rigorous performance demands and help to control light without eliminating it. Blocking UV rays reduces incoming heat which can reduce cooling costs. It also protects your interior valuables such as furnishings, artwork, and flooring from UV damage.
The Designer Screen Shade series from Hunter Douglas will block between 86% and 99% of incoming UV rays and is available in five different opacities. The line features Greenscreen Sea-Tex™ fabrics which contain yarn made from reclaimed plastic found on shorelines.
The solar shades from Insolroll provide the same level of privacy as a sheer drapery but with a much higher level of energy efficiency. Insolroll solar shades are high-performance, featuring a consistent and measurable amount of fabric openness and you can choose your desired level of openness from 1%-14%.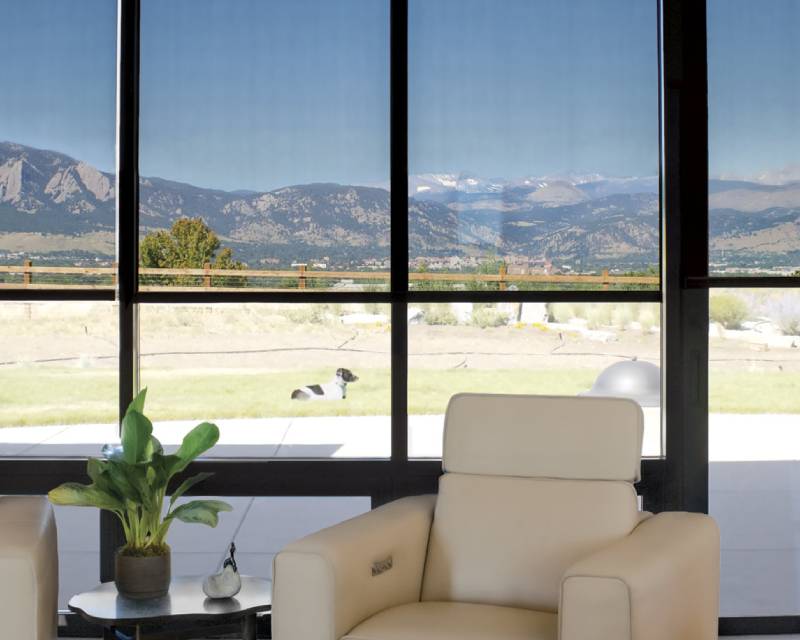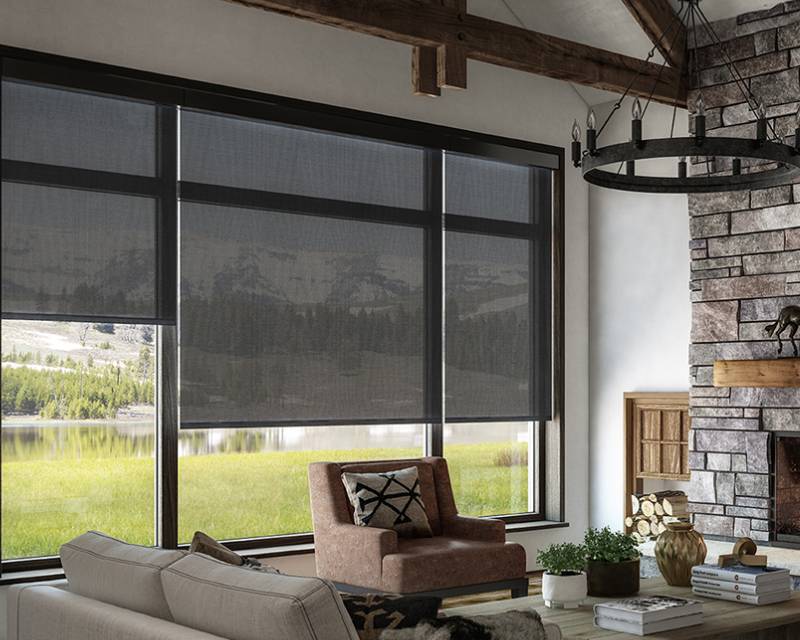 Alta Window Fashions feature solar shades that provide a minimal look with maximum UV protection. They have more than 500 fabrics to choose from and their fabrics are Greenguard certified to ensure an industry standard for low emission levels.
Graber produces a line of solar shades featuring fabrics approved by trend advisors to ensure your screen shades choice is a fashionable one. Their Eco-Friendly Collection has fabrics that meet at least one environment-saving standard, including fabrics made from 100% recycled plastics, are PVC free, and/or are Cradle to Cradle Certified™ Bronze to promote sustainable manufacturing processes.
Decorative roller shades provide light-filtering and privacy while enhancing the aesthetic appeal of a room. Choose your desired opacity level to create the perfect combination of privacy and light for your preferences.
The Insolroll Elements™ collection was recently expanded to include 41 new fabrics and 131 new colors to guarantee you will find a perfect match for your home's decorative style. Many of their semi-sheer and translucent fabrics can be combined with blackout fabrics to create a dual shade on a single window.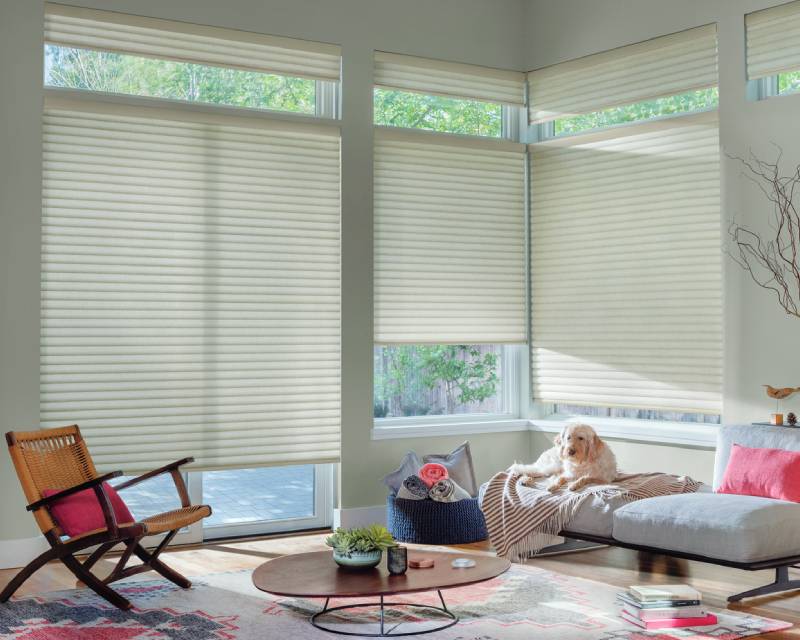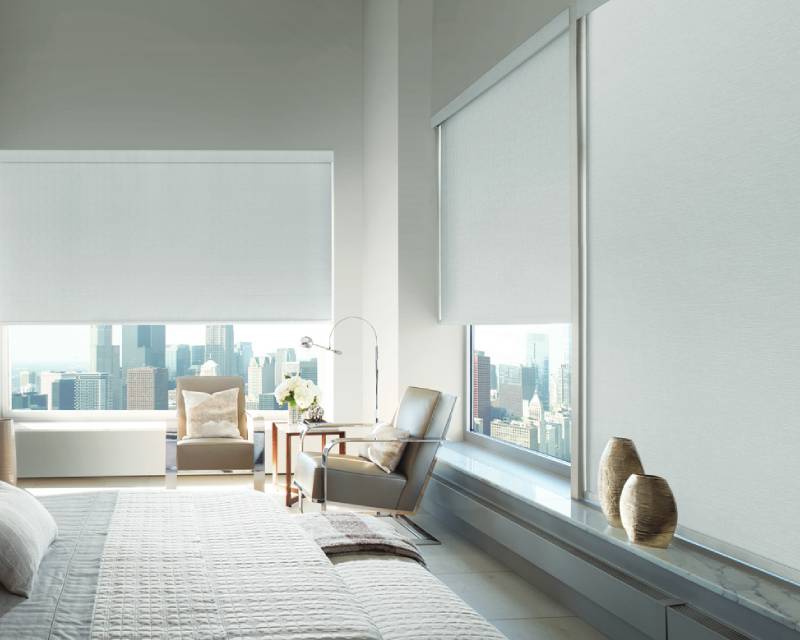 The clean lines of the designer roller shades from Hunter Douglas can accent any style from traditional to contemporary and every style in between. A choice of over 400 fabrics, in varying opacities, ensures you will find the perfect decorative roller shades. Should you need more than one type of protective quality to your roller shade on a single window consider their exclusive Duolite® feature. It offers the industry's first-ever combination of a light-filtering sheer shade and blackout fabric on a single roll.
Choosing the right roller shades for your home shouldn't feel like a chore. Let the professionals at the Blind Guy help you to customize the right combination of manufacturer and style to meet your specific needs. We offer free in-home consultations and our showroom is open by appointment. Our service area includes South Dakota from Hot Springs up to Buffalo, including Rapid City, Custer, Keystone, and the northern and southern Black Hills. We are looking forward to hearing from you.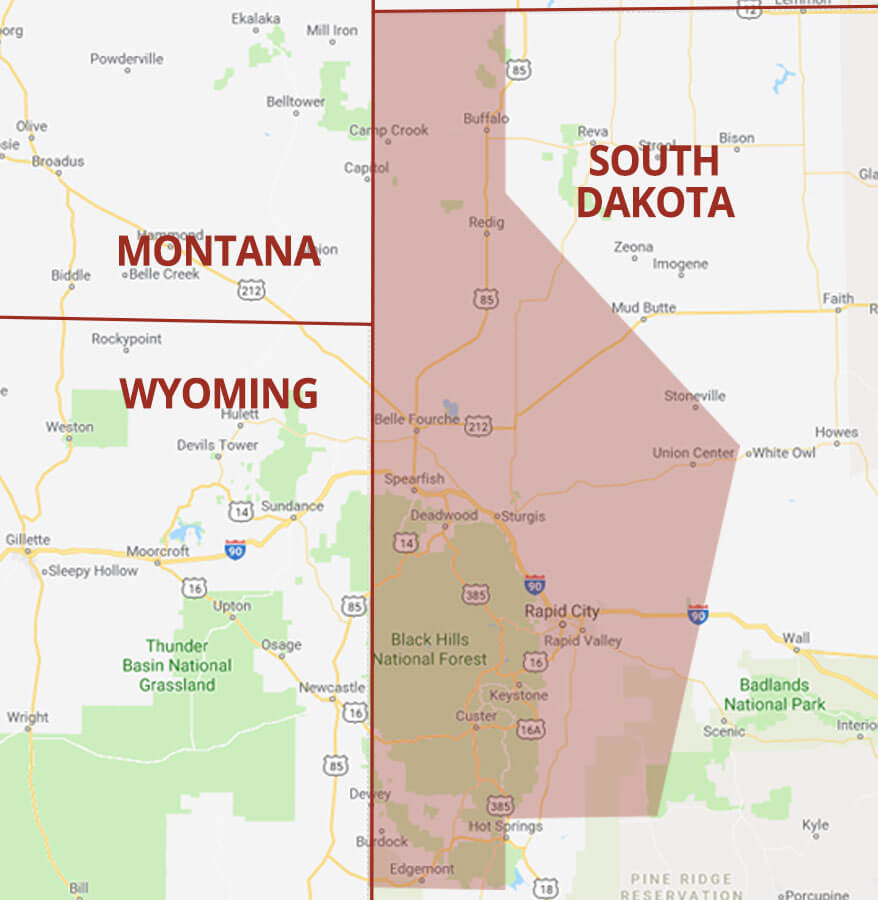 Blind Guy of the Black Hills
Call for your free in-home consultation.
Showroom open by appointment only.
We proudly serve South Dakota from Hot Springs up to Buffalo, including Rapid City, Custer, Keystone, and the northern and southern Black Hills.