Adding Elegance with Hardwood Shutters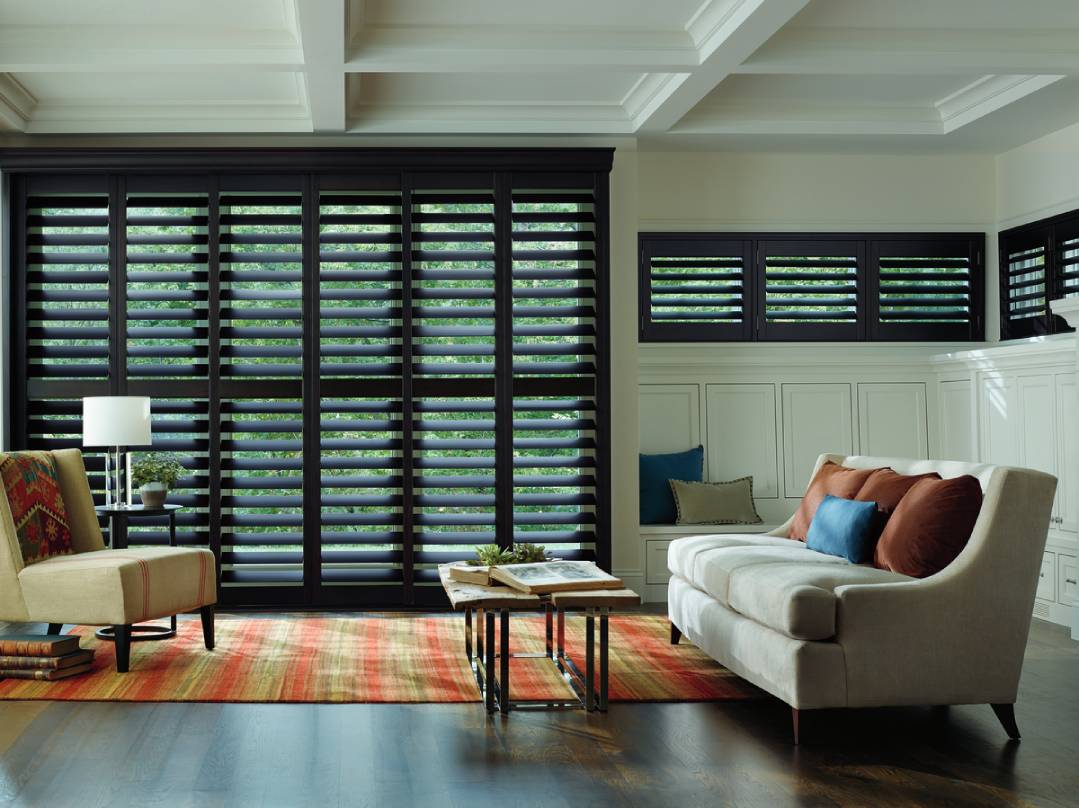 Deciding to upgrade your home's window treatments is an investment. When considering the window treatment options out there, you want to consider what challenges a particular room presents. Maybe your main concern is energy efficiency and insulation, or maybe simply brighter lighting and privacy. However, if you're searching for a window treatment that all-around adds value to your home while crafting a more elegant, refined atmosphere, we love to recommend our premium Hunter Douglas shutters. Not only do these shutters provide cozy privacy, UV protection, and help conserve energy, but they do so in a style that appears custom built for your home. Shutters pair beautifully with interior woodworking such as moldings and cabinetry, and they're robust to boot! At The BlindGuy, we have window fashions for everyone, but we're particularly excited about our shutters that bring much-needed warmth and comfort to your home, especially during the cold winter months.
Heritance® Hardwood Shutters
These fabulous shutters from Hunter Douglas are crafted from 100% natural hardwood from sustainably managed forests. Frame your windows in beautifully engineered shutters finished in stains that highlight the unique characteristics of the wood they're built from. IntegraFinish™ ensures your high luster shutters last you a long time. Where typical shutters are held together by wood glues, Heritance® uses Truemill® dovetail construction, which utilizes interlocking shutter components for a tighter fit that stands up to daily use. Front and rear tilt operation let you precisely position your shutters for optimal lighting, and you can expect your shutters to snap into place every time. If one of our colors doesn't excite you, customize your own! We can match your shutters to your existing home fixtures for a truly custom built fit.
Graber Traditions® Wood Shutters
Built from 100% authentic North American hardwood, these shutters are known for their intensive crafting processes that produce a natural glow and durability quality you can count on. Each shutter is finished in environmentally friendly water-based paints so you can bring a touch of the great outdoors into your home while maintaining sustainable practices. Graber's drying processes ensures the straightest possible wood for a consistent appearance. Choose from 2 1/2" to 4 1/2" lovers, all of which provide a stunning view to the outside without compromising your sense of privacy. Traditions® shutters are certified Best for Kids™, so you don't have to sacrifice beauty for a window treatment that suits a busy home. Traditions® also boasts resistance to high heat and extensive UV testing, which means you can enjoy the rustic, earthy touch of plantation shutters for years to come.
Let us help you find your next favorite window treatment with our decades of window treatment expertise. From planning to installation, we have you covered with our friendly team dedicated to excellent customer service. Contact us or call us at (605) 722-4489 to schedule a free in-home consultation. Or, come visit us at our showroom in Spearfish, SD. We're open by appointment only, so be sure to reach out! We're locally owned and operated, proudly servicing Rapid City, Northern Hills, Hot Springs, Custer, and Keystone, SD.